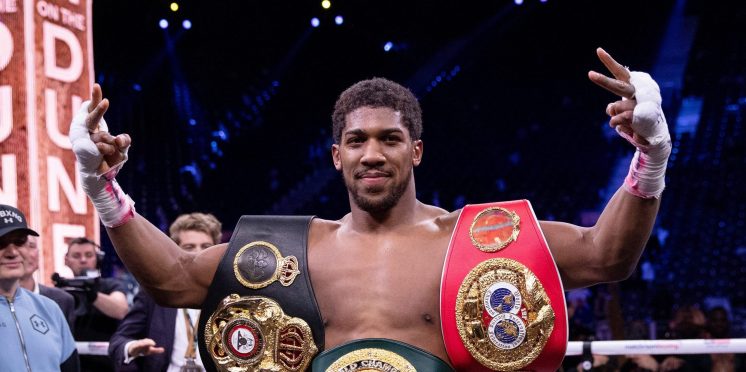 Who is the Best Heavyweight in the World?
After Anthony Joshua was incredibly defeated by Andy Ruiz Jr in June of this year, he reclaimed his spot atop the world of boxing with a comfortable defeat in the rematch between the two just a couple of weeks ago. It completes a year which has seen the world of boxing go full circle, and with that in mind, we take a look at the five best heavyweights in the world.
1.) Anthony Joshua
It's been a turbulent year for Joshua. In June he famously lost his belts against Andy Ruiz Jr in a major upset, but he finished the year where he started when he regained his position as heavyweight champion of the world by beating Ruiz in their rematch just a few weeks ago.
The 30-year-old has a couple of competitors ahead of him in the world rankings, but that will be of little concern to him and his team after he disposed of the man who claimed his crown in June in front of millions of viewers from around the world. He wasn't given much time to celebrate, however, with two sanctioning bodies ordering the world champion to defend his titles against both Kubrat Pulev and Oleksandr Usyk. Usyk will be first on the menu, with Joshua set to take him on in March or April of 2020 in a fight which will undoubtedly garner plenty of attention around the world.
The 32-year-old Usyk, from Ukraine, has enjoyed an unblemished career to date, but for the most part that has been in cruiserweight. He has fought just once in the heavyweight division so far, and has never faced a test as stern as Anthony Joshua, who will be confident in his ability to defend his belts.
2.) Deontay Wilder
With 42 wins from 43 fights, 41 of which came as a result of knockouts, it's little surprise that Deontay Wilder finds himself atop the world boxing rankings. The imposing American, who stands at 201cm tall, has been WBC heavyweight champion for the past four years after first claiming the title in 2015.
Wilder only took up boxing at the age of 20, but 14 years later he shows no ill effects of the late start. Arguably the most powerful puncher in the world, Wilder has knocked out 20 of his 43 opponents in the first round. The only time he has failed to win a fight was when he fought Tyson Fury, against whom he drew just over a year ago in Los Angeles.
In a fight which shapes up as one of the most anticipated in recent memory, the two will once again square off in February of 2020 in Las Vegas, and with so much on the line between the two – between whom there is plenty of animosity – it's likely to live up to all expectations.
3.) Tyson Fury
The man Wilder will take on in just a couple of months has a similarly impressive record, albeit with a few less fights to his name. Fury, who had a dominant amateur career before turning professional, has won 29 of the 30 fights in which he competed, with a solitary draw coming against Wilder last year.
That draw came after more than two years off for Fury as a result of numerous issues which arose from his mental health problems, and drew the ire of many who believed that Fury had the better of his opponent throughout the match. In a couple of months, he will have the chance to rectify what he and his fans believe to be an injustice when the two face off once again.
Fury will enter that fight having competed in two bouts in 2019, which he won against first Tom Schwarz and then Otto Wallin by TKO and UD respectively, and these exciting boxing prices have him as the slight favourite in front of what will no doubt be a massive audience.
4.) Andy Ruiz Jr
Andy Ruiz Jr had already established himself as a formidable opponent in the world of heavyweight boxing, but it wasn't until he defeated Anthony Joshua in one of boxing's biggest ever upsets in June of this year that he truly put his name in the ring as one of the world's best.
Their respective records aside, a large reason for the surprise surrounding the victory was the conditioning of the two – while Joshua is one of the world's best athletes, Ruiz Jr physical state leaves plenty to desire for an elite sportsman, and yet still he was able to take Joshua's belts.
The Mexican-American became the first world heavyweight champion of Mexican heritage with that victory, but six months later the two faced off once again in a rematch and he lost his belts as quickly as he had won them. For many boxing fans, the result in the rematch restored order in the boxing world, but regardless of where his career goes from here Ruiz Jr will always be able to lay claim to beating the best boxer in the world.
However, while the 30-year-old doesn't yet have a next opponent lined up, when his next bout is organised he will need to do plenty to get into the kind of shape which will enable him to earn back some of the respect he lost in the disappointing rematch against Joshua.
5.) Dillian Whyte
In July of this year, Dillian Whyte became the world's WBC interim heavyweight champion, and he is fully deserving of a spot on this list. The 193cm tall Briton has had an impressive career in a number of different sports – boxing aside, he has enjoyed an established kickboxing career and has also competed at a professional level in mixed martial arts.
From a boxing standpoint, the 31-year-old has lost on just one occasion from his 28 fights, and has won by knockout in 18 of his 27 victories. His solitary loss came back in 2015 against countryman Anthony Joshua, who defeated him by knockout in the seventh round. His most recent fight came on the same night that Joshua won back his belts in his rematch against Ruiz Jr, and in it he defeated Mariusz Wach of Poland by unanimous decision.
White has had a difficult few months after rumours emerged of a failed drug test and he was subsequently suspended as WBC interim champion and lost his spot as mandatory challenger to Deontay Wilder, and while he has since been reinstated he won't have a chance to challenge until early in 2021, when he will face winner of the upcoming clash between Wilder and Fury.
White has been the number one contender according to the WBC rankings for over two years, and he and his promoter have justifiably questioned why he was hanged by the public for the recent drug rumours in the absence of evidence, and why he so often fails to get the respect he deserves. He may still have some time to wait until he finally gets his chance at a world title, but despite that he is fully deserving of a spot in the world's top five heavyweight boxers.
---