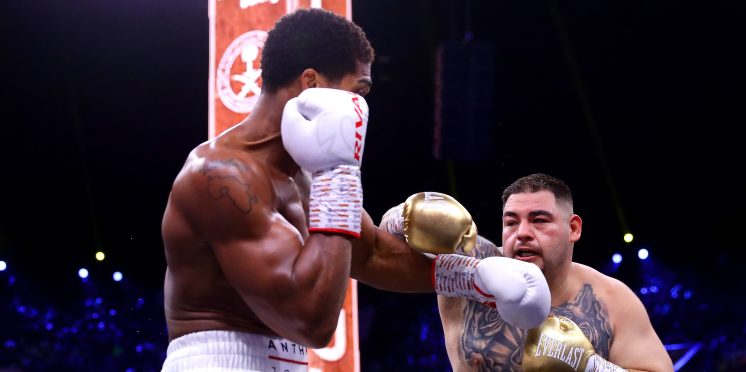 Rags to Riches: The Rise of Andy Ruiz Jr
Andy Ruiz Jr. cut a forlorn figure as he apologised to his team during a post-fight news conference in Saudi Arabia at the weekend. The Mexican-American fighter admitted that the hard partying got the better of him in the wake of his stunning victory over Anthony Joshua on June 1. It left Ruiz overweight for the rematch in Diriyah on Saturday, and he lacked mobility as Joshua comprehensively outpointed him to regain the IBF, WBA and WBO heavyweight belts. He may no longer be the world champion, but Ruiz has won legions of admirers this year and his bank balance has benefited enormously.
He pocketed a cool £10 million ($13.1 million) for the rematch against Joshua. Ruiz was paid $7 million for the first fight, which took place at Madison Square Garden in June and ended with Ruiz knocking out the previously unbeaten Joshua in the seventh round. That means he has earned more than $20 million for his two bouts with the Brit, whereas his career earnings previously stood at just $300,000 over 33 professional fights. It is a true rag to riches tale for a man born to poor Mexican emigrants living in California.
Ruiz was always a chubby kid and his father – a construction worker who went on to make money by flipping houses – nicknamed him Destroyer for charging about the house and breaking things. Andres Ruiz Sr. took his son to the boxing to help channel his hyperactivity into something more positive. Due to his sheer size, Ruiz ended up fighting much older children, and that quickly helped toughen him up. "Without boxing I would have probably worked with my dad in construction or been a drug dealer, because of some of the people that were around me, boxing saved my life," he once said.
The Destroyer boasted an amateur record of 105-5 under Cuban mentor Fernando Ferrer, but his dream of qualifying for the 2008 Olympic Games was shattered when he lost to Oscar Rivas. Instead he turned pro and blazed a trail of destruction, securing 29 straight victories during a seven-year unbeaten streak. That earned him a shot at the vacant WBO heavyweight title and he headed to New Zealand to face Joseph Parker. He lost on a split decision, but many felt he was robbed due to partisan hometown scoring.
Ruiz bounced back with victories over Devin Vargas, Kevin Johnson and Alexander Dimitrenko, but his earning power remained minimal. He then got his big break. Joshua was set to make his debut in New York and the scheduled opponent, Jarrell "Big Baby" Miller, failed two drug tests. Ruiz offered to step in and Joshua's team accepted. There were just six weeks between his victory over Dimitrenko and his showdown with Joshua, and many expected AJ to wipe the floor with the portly Mexican brawler.
The bookmakers made Ruiz a huge underdog in the boxing prices, but he stunned the world by knocking the champions down four times and delivering one of the greatest upsets in the history of boxing. That catapulted Ruiz towards fame and fortune. He went on Jimmy Kimmel Live. He was paraded around his hometown in a Rolls Royce and days later he went out and bought his own white Rolls Bentley, two Mercedes G-Wagons and a Lamborghini truck. He then splashed out on a new home with a pool, a tennis court and a basketball court. Pictures showed plenty of blinging jewellery.
People from his hometown visited to tour the estate, and there was a great deal of partying. It seemingly took its toll on the Mexican-American hero. He scaled 20st 3lb for his fight against Joshua in Saudi Arabia after gaining 15lbs over a six-month period. It made him the second-heaviest world champion in history, behind only Nikolai Valuev, who is 10 inches taller. He looked laboured as he plodded around the ring in Saudi Arabia, picked apart by a leaner, meaner, sharper and more mobile Joshua. He was tough and durable, and showed a strong chin, but he never looked like keeping hold of his belts.
"I don't think I prepared as good as I should have," said Ruiz. "The three months of partying affected me. I should have trained harder. I gained too much weight and I wasn't able to throw my combinations." When asked why he didn't train harder, Ruiz admitted: "There was a lot on my plate." Presumably a great deal of food.
Ruiz is now at an interesting crossroads in his career. He is a former world champion and rich beyond his wildest dreams. He will always be a hero to the people in his hometown. But he now has to decide if he wants to maintain the playboy lifestyle or knuckle down and plot a path back to the top of the heavyweight division. He hopefully talked up the possibility of a trilogy fight with Joshua, but the Brit is under no obligation to face him and already seems focused on the next challenge. Luiz Ortiz could be an option for Ruiz, or he could push for a showdown with Deontay Wilder or Tyson Fury, but he will have to forgo the celebrity lifestyle and get back to basics if he is to become a two-time world champion like Joshua.
---