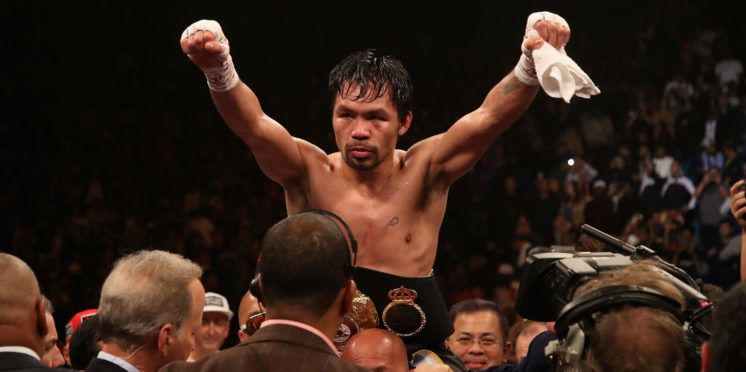 Manny Pacquiao: The Last of The Maharlika
"We have to be right in the middle of the action 'cause we're the warriors. And without some challenge, without some damn war to fight, then the warrior might as well be dead, Stallion!" – Apollo Creed
A net worth of over $200 million, the wrong side of forty and induction into the Hall of Fame already a certainty. What exactly is it that inspires Filipino boxing legend Manny Pacquiao to pursue greatness in an era of boxing that he has no business being a part of?
In his prime, this multi-weight world champion nicknamed "Pac Man" was terrorising a who's who of future Hall of Famers, his fan-friendly style brought to the ring a tenacity not seen since the like of a young Roberto Duran. That was a decade ago, old adversaries such as Oscar De La Hoya, Ricky Hatton, Miguel Cotto, Shane Mosley, Juan Manuel Marquez, Marco Antonio Barrera and Erik Morales have all long since retired, Pacquiao is now all that remains of the old guard, refusing to step down and accept that boxing is now in a new era and that he is from a time long past.
July 20th will see the MGM Grand in Las Vegas play host to Pacquiao's attempt to relieve a prime, undefeated champion in Keith "One Time" Thurman of his WBA Super World Welterweight championship. An astonishing twenty one years after his first world title fight.
It is often said that a fighter is the last to know when it is time to hang up the gloves for the final time. The reverse also rings true. Deep down a fighter not only knows what is left in the tank physically but he also knows his measure of heart, fire and desire. For Pacquiao, he feels that age is just a number and plenty is left in the tank, moreover when it comes to his heart, fire and desire, they have never been in question, in fact he has them all, and he has them in abundance. Success inside the squared circle may have given him the platform to have dipped his toes into the world of politics, film, music and even professional basketball, but this is a man who is well aware of his purpose in life, he is a warrior, born to fight and that simply put, is his truth. Manny is not some manufactured superstar hiding behind an unbeaten record, he had no Olympic medal to kick-start his career, his is a true rags to riches story of a man raised in poverty, far away from the land of opportunity, fighting his way out of total obscurity to become boxing's premier attraction with fame and fortune a mere by-product of his success.
How Pacquiao would have fared against Keith Thurman a decade ago is not up for debate in this article as a Thurman victory could only be predicted by the stupid or ignorant. What is up for debate, however, is whether or not despite advanced age and obvious signs of diminished speed and reflexes, he is not only capable of being victorious against Thurman but also of moving onto defeat current welterweight kingpins Errol Spence and Terence Crawford, a feat that if achieved would solidify his legacy as one of the greatest ever to grace the sport.
Saying goodbye to boxing is a difficult decision for any fighter to make, but imagine being Manny Pacquiao, adored by a nation and idolised by millions having to step away from the limelight when he still has that burning desire to test himself against the world's best. How can he possibly walk away when his thirst for battle has yet to wane, deep in the knowledge that he is just three victories shy of making his name synonymous with his sport just like it had done for the legends of yesteryear such as Muhammad Ali and Sugar Ray Robinson?
It may be that history shows us there is no escaping father time so it could well be that the likes of Thurman, Crawford and Spence are a step too far for Manny at this advanced age, but when he walks to that ring come July 20th wearing his trademark infectious smile to a deafening chorus of approval and adulation, there will be plenty of believers praying for a vintage performance that simply says "write me off at your peril". I will be one of them.
(*) The Maharlika were the feudal warrior class of the ancient Philippines, they were trained in Arnis, a flexible martial art that can be applied to both armed and unarmed combat. The art is heavily reliant on footwork and quick hands meaning that the Filipino will be quick on his feet throughout the duel – Lawrence Caga
---