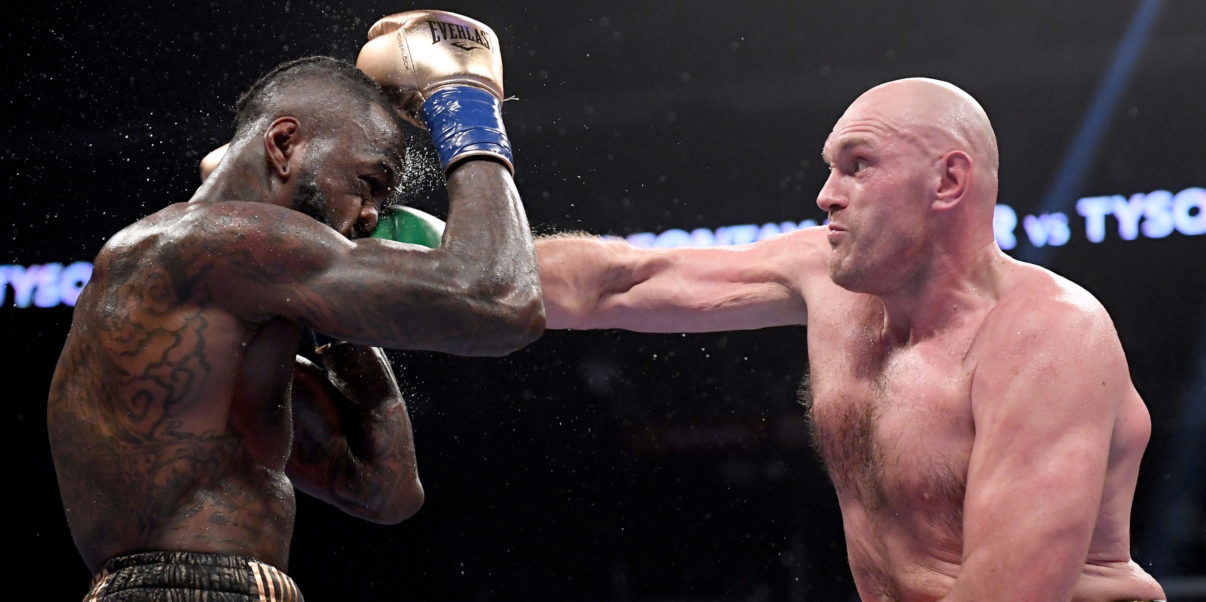 Wilder to swerve the rematch against Fury?
With the financially juicy-unification prospect of fighting Anthony Joshua in April 2019, is it possible Deontay Wilder could swerve a rematch with Tyson 'The Gypsy King' Fury in favour of a potentially easier and certainly more legacy rewarding bout?
Wilder vs. Fury lived up to its hype, like the classic exhilarating nights of classic heavyweight boxing: the thunderous blood-pumping adrenaline that whammed and thrummed throughout a rip-roaring crowd. The sheer electricity and enthralment that speared through the arena like lightning bolts as the two giants danced and fought their hearts out over twelve wonderful rounds of professional boxing.
Although Wilder dropped Fury in the ninth with a shady chopping right to the back of the head, then again in round twelve with a legitimate beefy right and brass-knuckled left; 'the Bronze Bomber' was pretty much pugilistically schooled all night as Fury danced and salted the WBC champion with a torrent of steely, thudding shots, while slipping and dipping punches as Wilder desperately and recklessly swung massive haymakers that mainly hit air.
In a magnificent display of grit, relentless courage, pomp and proficient skill; the lineal heavyweight champion proved he's still the slick, hybrid-boxer he always was as he speared-out stiff, stinging jabs and solid 'one-two' combinations into Wilder's face; bruising and swelling-up the champ's eye and cheek, despite opinions Wilder would blast him out of the square jungle by round six.
A rematch between Fury and Wilder early next year should be the next colossal heavyweight fight the boxing world is treated to. Fury, in a second dance, will be more a more enhanced, fitter, slicker, quicker, sharper and wiser opponent. I think it's fair to say 'The Gypsy King' will revving -up, raring to go and chomping at the bit to frustrate, trick and dish-out a severe boxing leathering to Deontay Wilder in second clash.
'The Bronze Bomber' on the other hand may attempt to flummox Fury by lacing up his gloves to actually box, as opposed to looking for his dynamite right. However, after two or three rounds of eating punches and being peppered from all angles, Wilder will realise its too late in the day for a knockout merchant to embark on a new trade. Thereafter, he'll unleash old faithful and throw a barrage of explosive knockout-power that will be rendered useless, as he will struggle to lay a glove on Tyson, let alone spark him unconscious.
Wilder's next fight may be rationalised by his team with a "Risk vs. Reward" decision and a lucrative unification scrap against AJ may be somewhat more enticing and possibly easier night's work than Fury all over again.
Still, if Fury is completely swerved by Wilder and his team, it simply means the next time he fights one of the two other giants, it'll be for all the belts in the division.
---