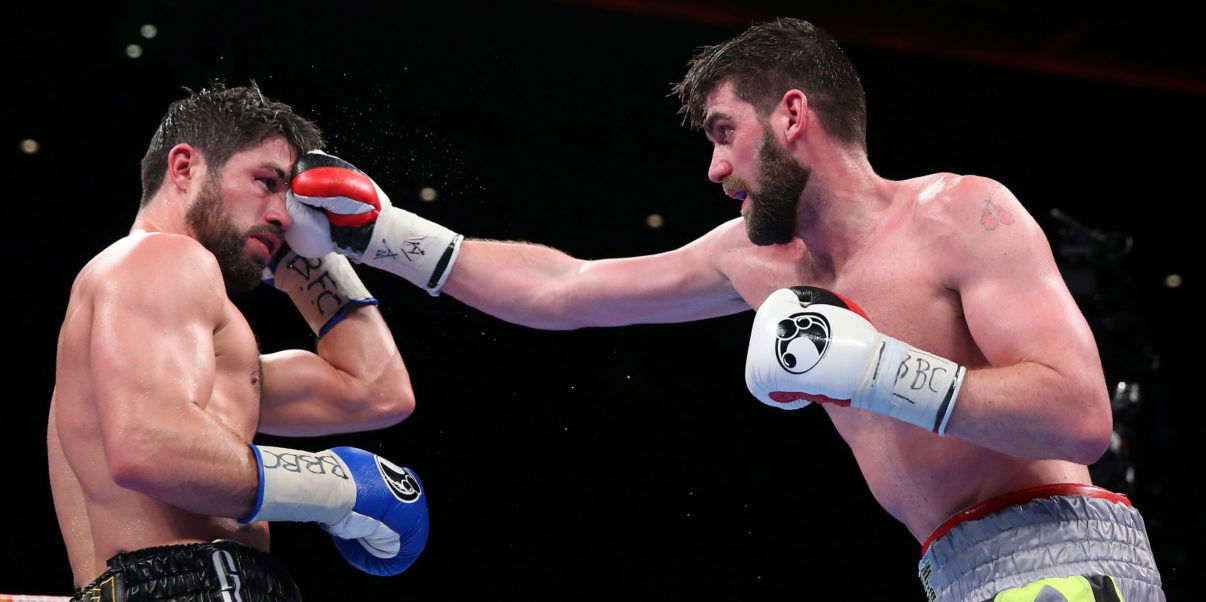 Battle On The Mersey Preview
Today we preview the fantastic show which Matchroom Boxing is hosting at the Echo Arena Liverpool on the 30th September.
There are some brilliant match ups on the card and some genuine 50-50 fights.
Tom Farrell vs O'Hara Davies
Davies jumps straight back in at the deep end after his recent defeat in which he seemed to "quit" after taking some heavy shots and a knockdown to Josh Taylor Boxing. Davies will be looking to get right back into the mix with a victory here and at today's press conference stirred up trouble by making comments about Farell's family.
Tom Farrell, on the other hand, is 13-0 and the local boy for this fight. The crowd was certainly a factor for Taylor in the battle with Davies and this will be no different at the Echo Arena which has become a cauldron for the home fighters. Farrell so far in his career has been impressive although this will be a big step up for him, but, one he is relishing indeed.
Paul Butler vs Stuart Hall
The first fight was a close one, Butler took the victory and the title via a split decision and went on to defend just once before losing to Zolani Tete in brutal fashion. Butler has since regrouped and now with Joe Gallagher has racked up 7 straight wins. This is also an eliminator for the WBA Bantamweight title which means so much more at stake for these guys.
Stuart Hall has been a great ambassador for the division having been in fights with Butler, Lee Haskins and Randy Caballero. One must think his best days are behind him and this is a last roll of the world dice for Hall. Hall may still have that hunger and desire to be back on the world stage but I think Butler will be too quick, sharp and accurate for Hall and I am expecting him to walk away with the W.
Rocky Fielding vs David Brophy
A very evenly matched fight on the card between Fielding and Brophy with the British Super Middleweight title up for grabs. Fielding has racked up 3 straight wins since the blow out defeat to Callum Smith and is looking to get one step closer to owning the Lord Lonsdale belt out right. At times since the Smith fight he has looked a little on edge in the bouts against Christopher Rebrassé and Istvan Zeller, but against John Ryder seemed to be back to full confidence.
David Brophy, before facing Saint George Groves was not really given much TV time so not a lot of the casual fans knew who he was. In that fight, he was outclassed by Groves but showed he had something to offer. He has bounced back with 3 wins and most notably beating the previously undefeated Australian Zac 'Dynamo' Dunn. Now Brophy has the chance to make his mark in the Super Middleweight division by beating Fielding.
I think this could go either way with Fielding clearly having the power over Brophy, however, Brophy has great boxing ability and could spring an upset.
Sean Dodd vs Thomas Stalker
This has the potential to be the fight of the night! Stalker a previous member of the GB team has all the ability but has yet been able to achieve the heights that are expected of him. After two draws and a defeat to Craig Evans one wonders whether he will ever progress any further than British level.
Masher Dodd, on the other hand, is a man not expected to reach the heights he has recently got to. He had two cracking fights with Scotty Cardle and has since gone on to take the Commonwealth crown, his style is that of Ricky Hatton no nonsense approach with vast amounts of pressure. When you watch him you cant help but want him to win.
A true underdog story indeed!
I think Dodd could take this one, his pace and pressure are relentless and I don't know if Stalker can keep up.
Other fighters on the show are hot local prospects Anthony Fowler and Natasha Jonas.
Overall this is a great card for the fight fans and a great event for Liverpool.
---