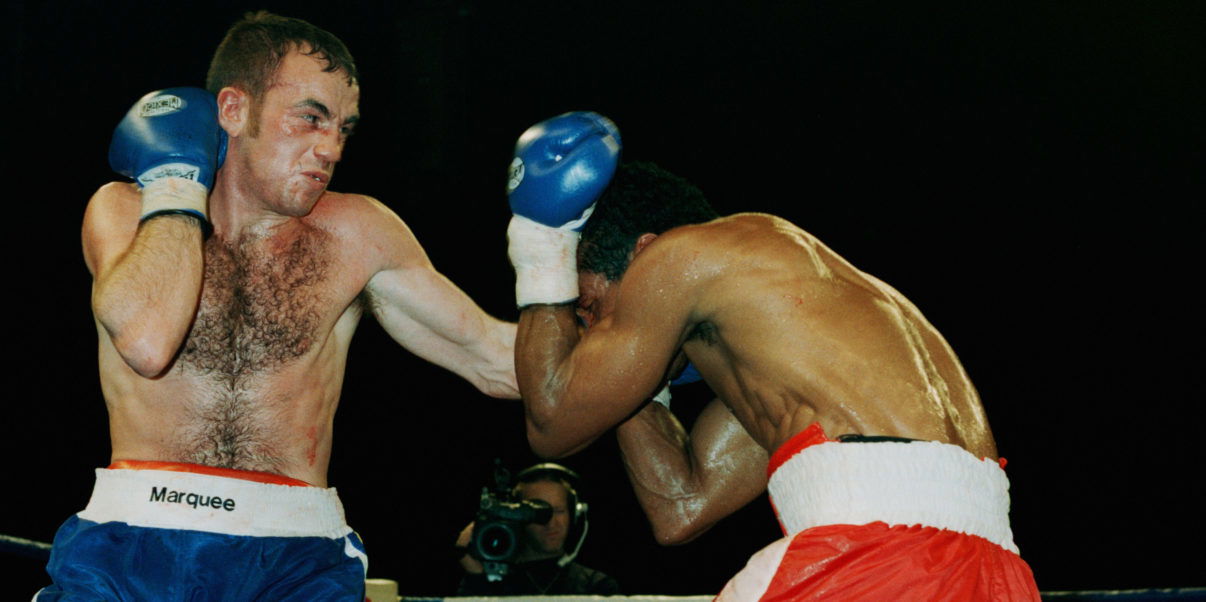 "The Welsh Warrior"
Barry Jones is the former WBO Super Featherweight champion from Cardiff turned pundit and commentator for BoxNationTV.
Barry started his career way back in 1992 at the Star Leisure Centre in Cardiff. 15 fights and 5 years later was challenging for his first professional title.He successfully defended the title and was quickly moved on to world honours.
Barry won his first and only world title on the 19th December 1997 after defeating Wilson Palacio via unanimous decision.
Unfortunately, his reign was short lived due to having a small anomaly on the brain the British Boxing Board of Control revoked his license and subsequently was stripped of the WBO title. After months of debates and tests Barry finally had his license reinstated and went on to challenge for his old title against the hard hitting Acelino Freitas who was 23-0, having had only one fight since the layoff and not known for being a puncher having never knocked out another fighter, Barry was not expected to last very long. Much to the public's surprise, Barry had Freitas down in first few seconds, however, this was the only success he had in the fight as he went on to lose by TKO in the 8th round.
Barry never fought in the ring again and has now gone on to have a successful punditry and commentary career on BoxNation. Barry's career and story intrigued me a lot so we approached Barry for an interview to which he accepted.
ESBR – Barry, how is it you got into the sport of boxing?
BJ – I got involved in Boxing because my elder brother Steven joined the local boxing club and I just followed him down
ESBR – Who is/was your biggest inspiration? BJ – Both my Father and my Grandfather. To see how my grandfather has always conducted himself is something I'll always aspire to. And the amount of time effort and money it has cost my Father just so I could follow my dream is a debt I could never repay.
ESBR – Unfortunately injuries hampered your career which ended a short one, however should you have been able to box on If there's one fight you could have been involved in who would of it been against?
BJ – I guess Steve Robinson, a former World Champion not just from the same city but from the same Council Estate, actually, for a short period, we both lived in the same street. That would have been a big fight for my city and style wise an entertaining fight to watch
ESBR – What are your thoughts on the current crop of UK boxers and is there anyone in particular that stands out to you? BJ – I think we have some tremendous Champions, contenders and prospects so the future of British Boxing looks very bright.
ESBR – You are a regular face on Boxnation TV, but what else are you up to in boxing? BJ – Except for media work I haven't ventured into any other area of boxing, but I do fancy in the future maybe getting involved in training fighters
ESBR – As a former fighter turned pundit do you have any advice for the younger generation to take on board when considering the career path of a professional boxer?
BJ – Don't do it!!! Seriously though, it's a very tough sport where talent only takes you so far, you have to have the dedication and determination to what to push yourself that extra yard it really is what makes the difference between potential and making it as a Champion. But as they say. "Choose a job you love, and you'll never work a day in your life"
ESBR – Finally what did it mean for you to be a fighter?
BJ – To get paid to do something you love, your passion, is a privilege that can be taken for granted but not many people can say that they had that opportunity, I was one of the lucky ones.
ESBR – Thanks so much for speaking to Eat. Sleep, Boxing, Repeat.
BJ – Anytime
When you look back at Barry's career you can honestly say that he achieved a lot, this for a man who is one of or if not the only man to win a world title without having a single knockout in his career! not bad going really he certainly shown the world how boxing is an art and not just a sport by being able to achieve what he did.
Hats off to Barry Jones…."The Welsh Warrior".
Please share your thoughts and memories of Barry below!
---